Thermocouple Sensors - Thermocouples to your Specifications
What is a thermocouple and how does it work?
A thermocouple is a relatively simple device used to measure temperature. Thermocouple sensors are made from two wires of different metals joined (welded) together to form a measuring junction (also known as a hot junction). This junction and the wires are usually enclosed in a metal sheath which is inserted into the medium where the temperature is to be measured. The opposite end of the two wires are also joined at a point known as the cold junction.
As the temperature at the hot junction changes, it creates a thermal gradient between the hot and cold junctions which generates an electron flow and a resultant electromotive force (EMF), measured in Millivolts. The voltage measured at the ends of the conductors is a function of the temperature difference along the conductor length. This effect is known as The Seebeck Effect.
When used with an appropriate thermocouple display unit, the cold junction is electronically referenced to 0ºC and a formula is applied to the millivolt signal, which can then be converted to °C or °F, using instrumentation. A more detailed explanation of How a Thermocouple Works can be found here.
Choose the right thermocouple for your appplication
We are the largest manufacturer of thermocouple sensors in Europe. Having an enormous range of components in stock means we can make virtually any sensor you specify. We can ship custom built thermocouples typically within 5 days or sooner.
Mineral Insulated
Thermocouples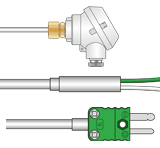 Rugged sensors, ideal for most applications. Vast choice of terminations e.g. pot seals, cables, connectors, heads etc.
Swaged Tip
Thermocouples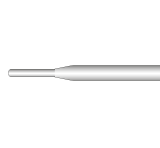 Fast response thermocouples ideal for industrial and other applications.
Miniature
Thermocouples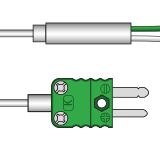 Ideal for precision temperature measurements where minimal displacement and a fast response is required.
Heavy Duty
Thermocouples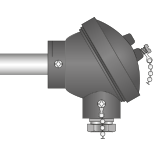 For industrial applications such as furnaces, kilns, ovens, boliers, flues etc. Many types of sheath material available.
High Temperature Thermocouples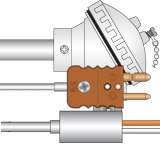 Various thermocouples specifically for high temperature applications. Wide choice of sheath materials and terminations.
General Purpose
Thermocouples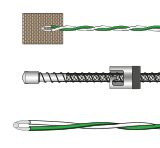 A wide range of thermocouples to suit many applications. Hand held, surface, bayonet, bolt, patch styles etc.
Thermocouples for
Surface Measurements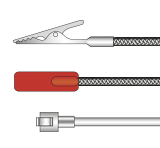 A range of thermocouples to suit various surface temperature measurement applications.
AMS2750 Approved
Thermocouples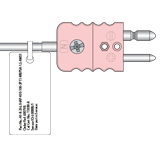 Calibrated thermocouples designed to meet the high quality and accuracies demanded for heat treatment and vacuum furnace applications
Industrial Vacuum
Thermocouples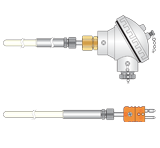 Ceramic sheathed calibrated thermocouples designed specifically in vacuum furnace applications with very low leak rates
ATEX/IECEx Approved
Thermocouples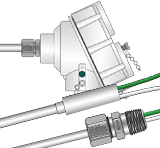 A large range of thermocouples with a variety of terminations such as pot seal, terminal heads etc.
Thermocouple Types
The above list shows the more popular types of thermocouple used in the UK, other thermocouple types that you might come across are Type S and Type E thermocouples. For very specific, usually high temperature, applications Type B and Type C are sometimes found.